Framework Public Bodies eligible to use the Framework are:
Central Government (includes Police, Fire & Rescue Services)
NHS
Universities and Colleges
Local Authorities
It is the responsibility of Framework Public Bodies wishing to use the Framework Agreement to satisfy itself that it is eligible to do so. Entitlement can be established from the terms of the OJEU advert. If there is any doubt, legal advice should be sought.
Please note that questions received through our response form may be used in the FAQ section of our site.
Benefits of using the Framework:
Access to a framework of services, from an organisation that understands the Scottish Public Sector and their context, and will abide by their brand guidelines;
A pre-completed and compliant route to market providing a vehicle to centralise procurement spend;
Mitigation of procurement risk surrounding EU Procurement;
Reduction in administrative costs and efforts;
Provides flexibility to determine specific requirements at call-off contract in line with the Framework Agreement specification;
Ceiling rates/maximum pricing defined and agreed for the duration of the Framework
Effective reporting mechanism to obtain accurate, timely and relevant management information;
Corporate Social Responsibility – adherence to minimum standards;
Pre-defined and agreed Terms & Conditions;
Shared risk and management of Contractors.
APS has a unique dedicated service built to support Scottish Government, Public and Third Sector organisations throughout Scotland.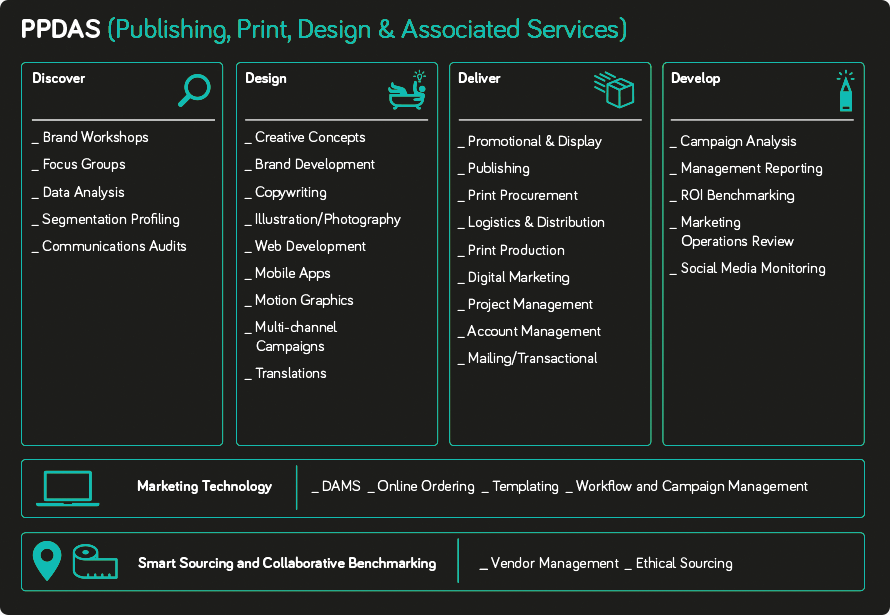 Details of the full scope of requirements can be found at Schedule 1 (Specification) of the Framework Agreement.
Each service can be called off individually or as a combination of one or more services.
Framework pricing is based upon the agreed Maximum Prices (Schedule 2 of Framework Agreement).
Key Benefits of Using the Framework
Value for money cash savings.
Award follows a comprehensive tender exercise, under EU public procurement regulations, and provides an easy route to market for Framework Public Bodies.
Strategic framework management.
Provision of management information reporting – monthly, or as required.
The UIG (User Intelligence Group) forum provides an opportunity to learn and liaise with other Framework Public Bodies and share best practice.
All Frameworks for Cat A and Cat B commodities and services are detailed on the Scottish Procurement Directorate website.
Information regarding pricing, terms and conditions and buyer's guide can now be found on Scottish Procurement's Knowledge Hub. In order to utilise the framework (contract reference SP-17-028) it has been requested by Scottish Procurement that a call-off contract (schedule 5 to the framework agreement) is completed by each organisation participating to ensure correct governance and clearer transparency on terms and conditions.
If you are not registered to access this site and are eligible to use the framework please complete the attached template and send to the Scottish Procurement contacts named as follows:
Neil MacTavish
Senior Portfolio Specialist
Phone:  0141 242 5589
Email: neil.mactavish@gov.scot
Martin Mooney
Portfolio Specialist
Phone: 0131 244 4437
Email: martin.mooney@gov.scot
Framework Public Bodies' Roles and Responsibilities
Your contract will be based on the supply terms and conditions contained within the PPDAS Framework Agreement. You are obliged to abide by the terms and conditions of the Contract.
Day-to-day raising and management of orders as per the terms of the Framework – resolving Order/call-off Contract operational issues and complaints.
Monitoring and reporting on the Contractor performance under the Framework on a quarterly basis against the agreed performance management measures.
Completing the quarterly Balance Scorecard returns.
Contributing to UIG (User Intelligence Group) meetings run by the Scottish Procurement.